Dining on Fort Myers Beach
From casual to fine dining, from Gulf front to the Bay, dining on Fort Myers Beach is always a wonderful experience.
Creative cuisine, prepared with fresh, local ingredients, by some of the best chefs in the area, in an atmosphere that only Fort Myers Beach can provide. This is what you'll find when you visit the restaurants of Fort Myers Beach. Also, you'll enjoy beautiful waterfront, warm Gulf breezes and spectacular views as you savor breakfast, lunch, dinner and late night bites too!
Fort Myers Beach offers an array of unique restaurants to suit anything you might be craving. You'll find some of the best, local seafood like Gulf shrimp, grouper, pompano, red snapper, and our famous seasonal stone crab claws. Additionally, for you landlubbers, all our restaurants have wonderful options like steaks, pasta, chops, comfort food, and more!
People who love food, are always the best people.
~Julia Child
Let's Eat!
Fort Myers Beach has beautiful beaches, weather, and incredible sunsets. But, it also offers the most desirable dining options in Southwest Florida. Most eateries on Fort Myers Beach welcome flip flops and tank tops, offer live music, and serve some of the best cuisine in Southwest Florida! Visit one of your favorites today!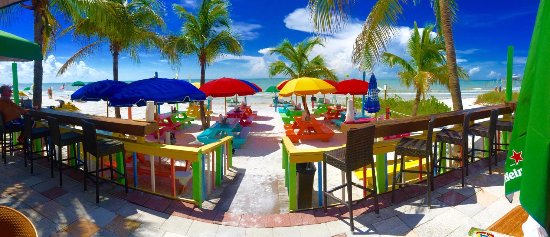 Fort Myers Beach was devastated by Hurricane Ian in September 2022. Below, are restaurants that have been able to re-open. 
239 Cafe
1028 Fifth St., Unit B, Fort Myers Beach, FL 33931
(239) 297-7122

Bayfront Bistro
4761 Estero Blvd, Fort Myers Beach, FL 33931
(239) 463-3663
Bonita Bill's
702 FIsherman's Wharf, Fort Myers, FL 33931
(239) 360-2248
Bimini Bait Shack
17501 Harbour Pointe Dr, Fort Myers Beach, FL 33931
(239) 463-6119*
Buster's Sports Tavern
16681 McGregor Blvd, Fort Myers, FL 33908
(239) 466-4144
Cabanas Beach Bar & Grille
2000 Estero Blvd, Fort Myers Beach, FL 33931
(239) 765-7654
Citrola's Italian Restaurant on McGregor
16740 McGregor Blvd, Fort Myers, FL 33931
(239) 334-6336
Dixie FIsh Co.
714 Fisherman's Wharf, Fort Myers Beach, FL 33931
(239) 233-8837
Doc Ford's Rum Bar & Grille
708 Fishermans Wharf, Fort Myers Beach, FL, United States, Florida
239-765-9660
Fresh Catch Bistro
4761 Estero Blvd, Fort Myers Beach, FL 33931
(239) 488-2400
Jack's at Pink Shell Resort
275 Estero Blvd, Fort Myers Beach, FL 33931
(239) 463-9874
Junkanoo Below Deck
4761 Estero Blvd, Fort Myers Beach, FL 33931
(239) 488-2400
La Ola Surfside Restaurant
1035 Estero Blvd, Fort Myers Beach, FL 33931
Lighthouse Restaurant & Bar
14301 Port Comfort Rd, Fort Myers Beach, FL 33931
(239) 489-0770
Love Boat Ice Cream
16475 San Carlos Blvd, Fort Myers, FL 33908
(239) 466-7707
Mango Rita's Rhythm House
16440 S Tamiami Trail #11, Fort Myers, FL 33908
(239) 466-8326
Matanzas on the Bay
416 Crescent St, Fort Myers Beach, FL 33931
(239) 463-3838
Mojoe's Coffee Cafe
1740 Estero Blvd, Fort Myers Beach, FL 33931
(239) 314-5575
Mon Paris on wheels at the Getaway Marina
18400 San Carlos Blvd, Fort Myers Beach, FL 33931
Parrot Key
2500 Main Street, Fort Myers Beach, FL 33931
(239) 463-3257
Pinchers
18100 San Carlos Blvd, Fort Myers Beach, FL 33931
(239) 415-8973
Rib City
11561 Majestic Palms Blvd, Fort Myers, FL 33908
 (239) 454-0454
Snug Harbor Waterfront Restaurant
645 Old San Carlos Blvd, Fort Myers, FL 33931
(239) 463-4343
Ron Dao's Pizzeria & Sports Bar
15320 McGregor Blvd, Fort Myers, FL 33931
(239) 481-1882
Sunflower Cafe
11410 Summerlin Square Dr, Fort Myers, FL 33931
(239) 415-4262
Takote
17200 San Carlos Blvd, Fort Myers, FL 33931
(239) 437-1471
The Beach Bar
16681 I Street, Fort Myers Beach, FL 33931

The Rude Shrimp Co.
450 Harbor Ct Unit 1, Fort Myers Beach, FL 33931
(239) 396-0246
Tiki Bar at the Lighthouse Island Resort
1051 Fifth St, Fort Myers Beach, FL 33931
(239) 437-2717
Valerie's Lounge
17264 San Carlos Blvd #312, Fort Myers Beach, FL 33931
(239) 466-7788
Wahoo Willie's
 645 Old San Carlos Blvd, Fort Myers Beach, FL 33931
(239) 233-8081
Yo! Taco
1375 Estero Blvd, Fort Myers Beach, FL 33931
(239) 463-9864
Yucatan Beach Stand
250 Old San Carlos Blvd, Fort Myers Beach, FL 33931
(239) 333-4386