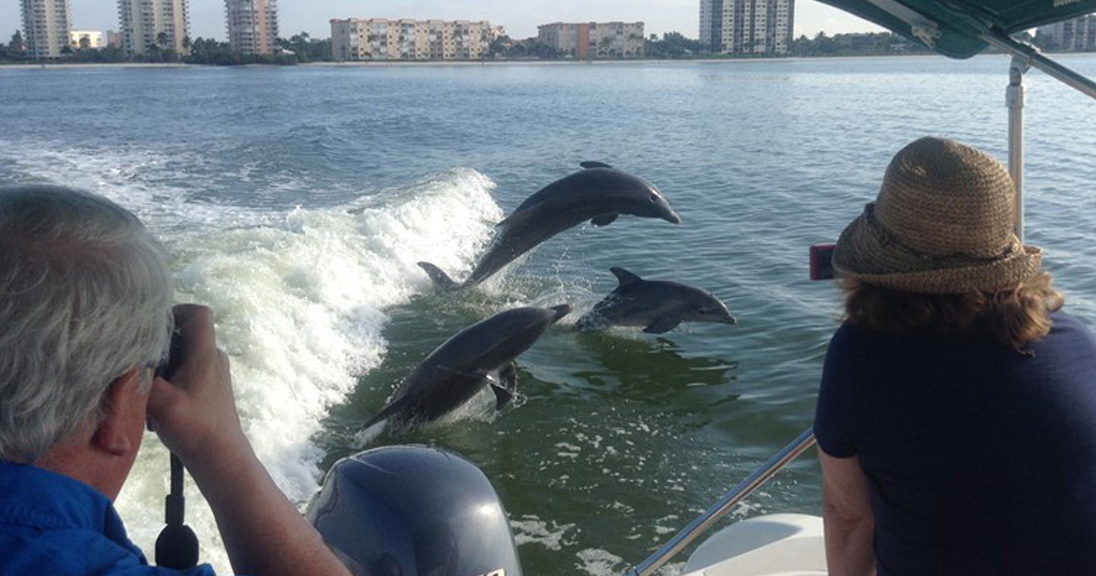 Tours on Fort Myers Beach
Many tours and charter companies are temporarily closed due to Hurricane Ian. This is a list of currently working tours and charters. 
A wide variety of fishing charters, shelling, and wildlife eco-tours are available on Fort Myers Beach. Experience and learn about native marine wildlife on fun, relaxing, educational dolphin, shelling, and sunset cruises enjoyable for all ages.
Kids and adults alike will love seeing and learning about dolphins, manatees, birds, and other Florida wildlife. You can also take a kayak tour, go shelling, visit the historical Mound House museum, and much more!
"To my mind, the greatest reward and luxury of travel is to be able to experience everyday things as if for the first time, to be in a position in which almost nothing is so familiar it is taken for granted."

~ Bill Bryson
Take a Tour on FMB!
The Gulf waters around the Fort Myers Beach area are abundant with amazing marine life offering plenty of things to do and see. Take advantage of the many tour options that are fun for the whole family!
Island Runner Tours
4765 Estero Blvd, Fort Myers Beach, FL 33931
(239) 777-3058
Just Livin' the Dream Charters
18501 Mullock Creek Ln, Fort Myers, FL 33908
(239) 243-4818
Lei'd Back Tiki Tours
18400 San Carlos Blvd, Fort Myers Beach, FL 33931
(239) 344-7737
Patriot Marine USA Boat Charters
14501 Abaco Lakes Dr #204, Fort Myers, FL 33908
(800) 813-4278
Sunset Boat Tours
645 San Carlos Blvd, Fort Myers Beach, FL 33931
(239) 765-8500
Southwest Florida Dolphin & Eco Tours
742 Fishermans Wharf, Fort Myers Beach, FL 33931
(239) 470-1472
Estero Bay Express
at Fish Tale Marina
7225 Estero Blvd, Fort Myers Beach, FL 33931
(239) 463-3600
Adventures in Paradise
645 Old San Carlos Blvd, Fort Myers Beach, FL 33931
(239) 765-8500
Lagerhead Cycleboats
2500 Main Street, Fort Myers Beach, FL 33931
(239) 312-3137
Salty Sam's Pirate Cruise
At Salty Sam's Marina
2500 Main Street, Fort Myers Beach, FL 33931
(239) 765-7272
Island Time Dolphin & Shelling Cruises Inc
450 Harbor Ct, Fort Myers Beach, FL 33931
(239) 898-6155
Beach Buddy Tours
Fort Myers Beach, FL 33931
(239) 895-8868
Sun-N-Fun Tours & Charters
18400 San Carlos Blvd, Fort Myers Beach, FL 33931
(239) 770-3218
Pontoon Boat Tours
18850 San Carlos Blvd, Fort Myers Beach, FL 33931
(239) 462-8589
Banana Boat Tours and Rides Inc.
3040 Estero Blvd, Fort Myers Beach, FL 33931
(866) 935-5698
FantaSea Sailing
2500 Main Street, Fort Myers Beach, FL 33931
(888) 582-9046
Sea Dog Eco Tours – Paddle Board Instruction & Tours
414 Crescent St, Fort Myers Beach, FL 33931
(231) 335-7278
Fort Myers Tiki Tours
2500 Main St, Fort Myers Beach, FL 33931
(239) 887-0042